But I really wanted to share this unbelievable footage. Unedited, real-time video of the devastating F5 tornado that hit Moore, Oklahoma on Monday afternoon.

This is about 25 minutes south of where I live (one of Sunday's tornadoes landed 2.5 blocks from where I was. I actually stood and watched the clouds rotating, something I've never seen in more than 20 years in this state.


TEN minutes.

That's all the time it took from touching down on the ground to reach its full power and size. At its largest, it was close to two miles wide and had winds in excess of 200 miles an hour.

Also, you need to realize that this storm did NOT EXIST half an hour before this video was shot. There wasn't even a CLOUD.

For all the power there was and all the damage that was done, consider this:

There were at least 13,000 people in the path of this deadly storm. (I don't recall the actual estimate - it might have been as high as 17,000) ... Only 24 died.

I doubt an airport could handle 13,000 pieces of luggage within 45 minutes and only misplace 24 items.

For comparison, the 2011 Joplin, Missouri F5 tornado (that hit at almost the exact same time of day, and was also on a Monday in late May) was on the ground only 5 more miles than the Moore tornado (22 vs 17) - and the death toll was more than 150.

Those of you who wonder why anyone would live in Oklahoma? Well, this is NOT normal. In the past 123 years of recording tornadoes there have only been SIXTY-SIX that did any kind of significant damage. (F2 and above) That's only one every two years.

And the really, really bad ones are RARE.

Only one possible F5 occurred between 1999 and last Monday. ("possible" because there were numerous tornadoes in one area over several days and it's hard to know if the damage was cumulative) Before that? The last F5 was '82, or '76, or '60 (methods of measuring damage are somewhat disputed. But in general, you're looking at 15 years between significant life-threatening events.)

If you're questioning storm shelters or safety precautions - understand that a large portion of those who were inside of shelters had to physically HOLD THE DOOR CLOSED with their own bodies against the power of the storm. And at least two specially designed underground shelters had the doors completely ripped off.

F5 tornadoes have the power to rip concrete out of the ground. The don't just tear off roofs and uproot trees - they uproot ROADS and throw vehicles one or two MILES from where they picked them up. The power is awe-inspiring.

So why don't we all flip out when we hear the sirens go off? Well, there were THIRTY-SIX different tornadoes that hit the state on Monday. As a rule, tornadoes are NOT something to worry about, if you take safety precautions and heed warnings and alerts.

Basically, yes, Oklahoma is suffering. But we will recover. We have been shaken. But we are coming together. We are rebuilding. It's what we're known for.

My sister was one of more than 2,000 volunteers who showed up on Wednesday morning to clean the Moore cemetery. If you're wondering why a cemetery was a priority when homes are in ruins - the funerals for those lost in the tornado are beginning today.

It took between 6,000 and 10,000 man-hours to clean up the cemetery. In addition to the large debris you would expect (and some you wouldn't - there's a picture circulating of a piece of wood that has skewered a roadside curb. That's wood driven through six inches of concrete. By the WIND.) everything is littered with tiny pieces.

Have you ever forgot and left a tissue in your pocket while doing the laundry? And after going through the wash and dryer, little bits are scattered over all your clothes? That's what she said it looks like. Only it's bits of tree and tire and asphalt and cloth and roof shingle and photograph, etc, etc, etc.

My family is all safe. Although I don't know anyone personally who died, I know various people who lost their homes and/or someone they loved. I also know of uncountable stories of generosity and service.

Several local universities and hotels have opened up for free housing for those displaced. Restaurants are offering free meals to those affected and those on the rescue/relief effort. The Oklahoma Blood Bank has several WEEKS of appointments for donations. At just one local news station, the line of vehicles bringing donations was so long it took more than SIX HOURS to unload. Doctors are providing free clinics to replace glasses and contacts and prescription meds. Photographers are taking images of recovered items and pets so owners can be reunited. People have traveled from all over the country to offer aid. A West Virginia university baseball team in town for a Big 12 tournament, headed over to Wal-Mart to buy a couple truckloads of bottled water and supplies. (On that note, many local Wal-Marts and Home Depots and such have been SOLD OUT of bottled water and storage tubs and work gloves and such because people purchased the entire stock and took it down to Moore.) Several local churches that were already planning sum mer VBS programs, have extended their hours to allow free childcare for families affected by the tornado. A couple have also added in free lunch and/or dinner. Not only for the children, but for their entire families.

THAT is just some of why we live here.

It is our home.
I haven't posted in more than three years. (I've lurked quite a bit, though)
no one cared.
Although I will be posting them eventually, I've been far too busy lately to mess with a daily post if I'm just doing it for my own amusement.
(We've had two workshops, two CDs in various stages of being written/edited/recorded/distributed, and two other events during the last two-three weeks alone)
I have the whole month - 28 different ladies - lined out and have been compiling links and images. The order is more-or-less random, however, one Female of the Day had a particular
reason
for being assigned to this date specifically. (and you, Ms.
truemyth
should know who and why)
So, even though I have not had time to compile an entry on her (partially because of the previously mentioned busyness and lack of audience interest, partially because I admit to not being very familiar with her character) I at least wanted to make a post ON the actual date.
(
Click to reveal our 'mystery' Fab Female of the Day - although I bet you've already guessed who it is
Collapse
)
It's the thought that counts, right?
I haven't been keeping up with my Fabulous Fictional Females posts because, well, apparently
F5 plan
into action for a week now. With the exception of Day #1 I've hardly gotten any comments.
Is anybody reading these?
Should I alter my methods? Am I selecting characters nobody else has seen or cares about? Am I screwing it up some how, doing posts so
badly
that it makes even these awesome ladies seem unlikable?
Fair warning: I already have three more weeks of characters listed out and will most likely still go ahead and post them simply for my own amusement, if nothing else.
But if that's the case, I'll quit trying to make a daily post and just pre- or post-date them as needed once I eventually finish.
So, I want to know if any of you care one way or another. (Personally, I LOVE when other people post this sort of thing, but I'm often horrifically bad at commenting and just lurk and enjoy. So, I completely understand if that's what you're choosing to do. No problem.)
Would it help to know in advance? Or do you like the "surprise"?
Here's a preview of the next week's Fab Females:
We've got people from comedies and people from crime shows (and at least one that could be considered a comedy crime show)
We've got reoccurring roles and replacement characters.
We've got cops.
We've got blondes.
We've got tomboys.
We've got doctors.
We've got Canadians!
(Both ones in real life and those who play them on TV. By which I mean there is a Canadian playing an American (actually, there are two of them), a Canadian playing a Canadian, and an American playing a Canadian!)
(And 10,000 super bonus points each if you figure out the three characters/actresses I'm talking about! (100,000 if you guess the fourth, because she's only a repeating guest star.))
Okay, so I've been putting my
Fabulous Fictional Females Fandom Fiesta February
Day 7 – Dr. Gillian Foster.
The challenge I set myself for this month was not merely to celebrate a different Fictional Female each day, but to find real-world plausible characters.
That means no superpowers, magic, aliens, etc. I am a huge fan of genre shows, especially sci-fi and fantasy. But I really wanted to recognize realistic role models. Women who could, in theory, be living in the same world of today as we do.
Dr. Gillian Foster is one such character.
Lie To Me
is my current catch-up show. Every few weeks, when I have some downtime, I'll watch a couple episodes back-to-back on Hulu (typically while knitting and calling out suspicions and deductions at the screen - yes, apparently I *AM* a crazy old lady in a 29-year-old body.)
Fully 90% of the reason I ever watched more than two episodes is due to the awesomeness of Foster.
(
Who better than I to investigate the world of hip hop
Collapse
)
Fabulous Fictional Females Fandom Fiesta February
Day 6 – Abigail "Abby" Sciuto.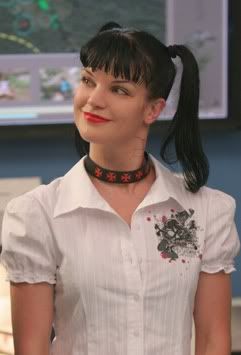 Nobody is really going to care about this, because top-5 in the ratings or not, there are only, like,
four
of you who watch the show in the first place. (And at the moment, I'm actually over a year behind myself!)
Before I began watching, about the only knowledge I had of
NCIS
to distinguish it from any other dime-a-dozen procedural out there was "it's the one with the goth chick"
But Abby is much more than "the goth chick"
(
They didn't have a card that said 'Sorry I almost sent you to prison' at the flower shop
Collapse
)
Fabulous Fictional Females Fandom Fiesta February
Day 5 – Tami "Mrs. Coach" Taylor.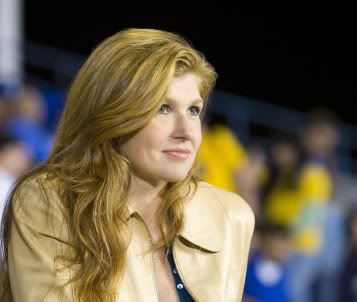 Who doesn't love the Taylors? Tami is the perfect mom/friend/wife/teacher you always wanted and wished you had in real life.
She's smart, sympathetic, sweet, strong, and seems to almost always know
exactly
the right thing to say at the right time.
*****
(
The big deal is it's part of my job, to make sure that you don't grow up stupid. It's bad for the world
Collapse
)
Fabulous Fictional Females Fandom Fiesta February
Day 4 – CJ Cregg.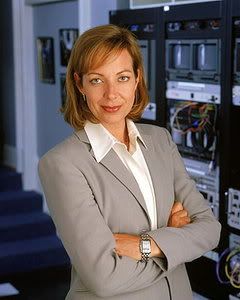 In the spirit of complete disclosure, at this point I should probably mention that 1) although the first few ladies are definitely among my favorites, these Fabulous Females are in no specific order 2) furthermore, I do not actually know today's Fab Female that well, since I've only seen an handful of
West Wing
episodes.
That being said, even if I'd never seen an episode, my awareness of the character merely through fandom osmosis would indicate she should be included on any list of Fantastic Fictional Females.
*****
(
Sir, this may be a good time to talk about your sense of humor.
Collapse
)
Fabulous Fictional Females Fandom Fiesta February
Day 3 – Elizabeth "Elle" Burke.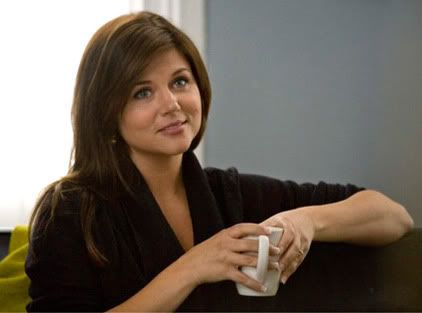 This may seem like a surprising entry for so early on. But I want to recognize and celebrate females not just in the main role or in positions of power and authority, but ones who are ordinary/extraordinary "normal" women, too.
Besides, Elle is so awesome I had decided to add her back when only 8 episodes of the show had aired.
That's somewhat amazing, especially given that her role is essentially a third wheel in a buddy show.
(
Honey. I did not LIE to the FBI. I merely provided cookies and nice, distracting conversation ...
Collapse
)
Fabulous Fictional Females Fandom Fiesta February
Day 2 – Detective Dani Reese.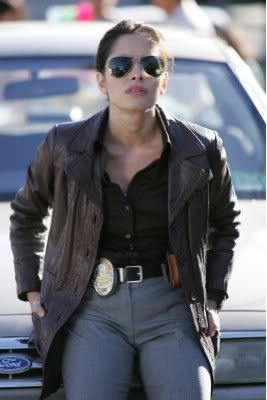 Another show I mourn greatly for what could have been …and the perfection of what was. First season
Life
is absolutely breathtaking.
As always with truly quality shows, a large part of that was the characters, especially the main partnerships of Crews and Reese.
Crews of course was the centerpiece of the show, but his character and role wouldn't have been anything near what it was without Reese.
******
Dani Reese is a wonderful slap in the face to all the cliched color-by-numbers characters out there.
(
Say 'is it?' one more time and I'll shoot you.
Collapse
)